Este #8M #nosotrasparamos
Las trabajadoras de A Casa José Saramago paramos este viernes 8 de marzo. Huelga de trabajo, cuidado y consumo.
A Casa no cerrará, pero recomendamos que visiten el museo mañana jueves, sábado o próxima semana en nuestro horario habitual ya que la mayor parte de la plantilla lo conformamos mujeres, y por tanto, el funcionamiento habitual en el museo se verá afectado.
Las visitas se realizarán de forma habitual de nuevo, es decir, de lunes a el viernes, de 10 de la mañana a las 14:00h  (13:30 hora de la última visita).
Este 8 de marzo salimos a la calle juntas.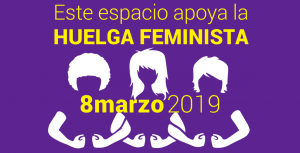 Women workers of A Casa José Saramago will stop this Friday, March 8th. Work, care and consumption strike. A Casa will not close, but we recommend you to visit the museum tomorrow Thursday the 7th, on Saturday or next week in our usual schedule since most of the staff is women, and therefore, the normal operation in the museum will be affected. Visits will be made as usual again on Friday, from 10 in the morning to 14:30 p.m. (13:30 hour of the last visit).
Sorry for the inconveniences.